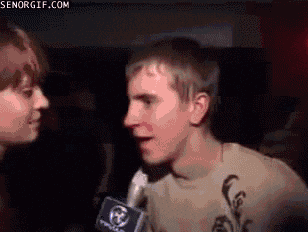 Me on gameday
Congratulations, people. We've made it. If you're reading this, it means you are alive and you have survived until GAMEDAY. I dare you to find a better word. Gameday represents all that is wonderful in life. And when that gameday is of the season opening variety, on a Friday night, on a holiday weekend... you get the kind of gameday that you want to bottle up and bury underground so you can dig it up the next time you get sad. That's good gameday. That's ELITE gameday.
So let's all ignore our suspended wide receivers, our cornerback leaving the team two days before the opener, and any other bad things in life. Find your friends, get to your bar early, and viva la vida.
---
WHO/WHERE/WHEN
WEATHER: 70s AND A CHANCE OF RAIN OOOOOOOOOOOOOO
---
RANDOM MUSIC WE'RE DIGGING HARD THIS WEEK
Last week it was the Struts. This week we get new(ish) music from the Mowgli's! Aren't we all so lucky. Check them out.
---
BIG TEN FEAR RANKINGS
1. Wisconsin, 0-0 (0-0). No need to sandbag it: bullseye is on our back and we are living the top dawg life. In kinda sorta related news, I'd like to say thank you to Mike Leckrone for 50 years of service. I don't doubt his contributions to both the UW band and university. HOWEVER, it's definitely time for a breath of fresh air in the band. Time to play killer Lady Gaga covers. March into the shape of a badger devouring its prey. GIVE US A WEEZER MEDLEY. I don't care if they play something new that I don't like (oh god no country please). I just want to hear some songs from the last few decades and see them march into the shape of something awesome. I don't think I'm asking for much.
2. Ohio State, 0-0 (0-0). Let's all raise our hands if we were surprised to see Urban get off with a small suspension during the non-conference portion of the schedule.
No one's raising their hands? Oh what a shocker. Spineless, pathetic attempt at covering up some awful behavior and a lot of lies.
3. Michigan State, 0-0, (0-0).
And they slide casually back into their comfort zone of being sneaky better than people realize. GOOD FOR YOU.
4. Penn State, 0-0 (0-0). I know what you're thinking: how's your dog doing? She's doing great!
Lookit da puppy!
5. Iowa, 0-0, (0-0).
Keep 9/22 circled on your calendar. UW's trip to Iowa City will have huge implications on both the B1G title chase and our push for the Playoff.
6. Michigan, 0-0 (0-0). As much as I want them to fail (and oh boy do I want them to fail!), I'm already sick to my bones at the thought of a flood of 'IZ COACH HARBAUGH ON DA HOT SEAT?!' articles. I'm not sure this is a make-or-break year for him at Michigan, but that's not too far off.
7. Northwestern, 1-0, (1-0). How do we feel about these week 1 B1G games? I think I'm for them mainly because I like anything that causes old timers to get their grundle in a bunch about things not being like they used to. Instant replay? Yessir. Designated hitter in the NL? Bring it on. Unwritten rules? Write 'em down or they don't mean shit.
Speed up all these 3 hour sporting events that have 13 minutes of actual action and we can enjoy them while still having lives. BRING ME CHANGE
8. Purdue, 0-1 (0-1). As long as Brohm stays at Purdue, they're going to keep trending up. I'm fine with that. He'll leave for some hot job right before they get legitimately good.
PS - oh hey Brohm coached Western Kentucky a few years ago!
PPS - omg that penalty Purdue picked up at the end of the game was some special kind of stupid
9. Nebraska, 0-0, (0-0). Time for a quick peep at the happenings in the neighborhood watch group:
God bless them all.
10. Minnesota, 0-0, (0-0). Rowing that boat right into another season of mediocrity.
11. Indiana, 0-0 (0-0). Indiana football at least used to be kinda fun to watch when they could throw up a ton of points. Yeah, they gave up 60 points a game, but at least it was one of the FUN blowouts on your schedule. I'm not sure they have that kind of offense anymore.*
*I know zero facts about IU football 2k18
12. Maryland, 0-0 (0-0). So how's your offseason going?
13. Illinois, 0-0 (0-0). They're going to be bad and this will not surprise anyone. Drink every time they mention Lovie's beard and move on with life.
14. Rutgers, 0-0 (0-0). Trash program. Trash.
---
THIS WEEK'S GAME IN HAIKU
Friday night party
Can't believe football is back
Heisman kickoff show
---
YOUTUBE
Is this a viral video yet? Any reason is won't be? The first time I watched it I chuckled. The second time I got a good giggle. Every time after that I've lost it. Mr. Bubbs got those googly eyes that really get me, and boy did he not like being called out:
Random guy on the internet restores his grandparents' home videos from a 1956 visit to Disneyland. There's something oddly interesting about this. Maybe it's seeing Walt Disney casually out and about in the park. Maybe it's how non-commercial it feels with the surrounding acres of prairie land. I don't know. But it's a cool visit to life in the past. This was literally 11 years after WWII!
I couldn't resist a continuation of last week's theme. Really appropriate regular programming to kick it back to.
---
#FOODPORN
I've spent a good amount of time this year working on my steak game. I've settled on reverse searing as the best method. Low and slow at 200-225 in the oven, yank it when the inside hits 115, let it rest, and then sear it on a screaming hot cast iron. Baste it with a little butter in the pan to really get that beautiful crust. Viva la reverse sear.
---
#SKYPORN
I've lived in Chicago for 9 years and FINALLY made it up to the top of the Hancock for the first time. I was not disappointed. I walked around drinking High Lifes until the storms came and left wanting MORE.
PS - Can't wait for Vista Tower to finish construction (on the left). Gonna be a fantastic addition to the Chicago skyline:
---
PREDICTION CITY
Friday night, let's get weird. THE PICK:
WISCONSIN 59, Western Kentucky 9