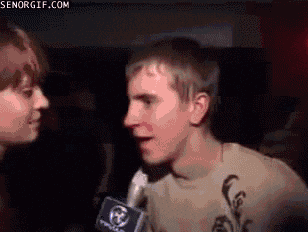 THE GAMEDAY DANCING DMITRI GIF IS HERE AND THAT ONLY MEANS ONE THING: Badger footbaw is back. Who do we have to pay to guarantee we have Friday night season openers for the next decade? I LOVE it. Gimme the Friday night party over the 11 am hangover special any day.
And
quite the curious season we have in front of us. I think everyone feels confident this team is better than whatever the hell happened last year, but the schedule has also moved up several notches on the difficulty scale. That means two things to me:
This is a very tricky season to forecast

This should be a lot more fun to watch that last year
I suppose it starts under center, where the Horn Dawg has fled and the Coan Hound has risen. I, like pretty much every single Badger fan in the world, was hoping Mertz was going to step on campus and immediately ASSERT DOMINANCE. I had my #Heismertz hashtag ready, drooled over the All-American game highlights, and was counting down the seconds until he made his debut.
But Chryst had other thoughts. Lame as it may sound, we kinda have to defer to the guy we used to refer to as a quarterback guru. A little of the luster has faded in recent years, but I'm choosing the timeline where Coan was just that much better than Mertz in camp. It's not that Mertz was bad, just that Coan was good. We officially have an 'it's not you it's me' quarterback room. WHATEVER.
At the end of the day, this is the Jonathan Taylor show and 5,000 yards isn't out of the question for him this season. Last week I pulled up his 2018 highlight tape on my way home and I think I honestly forgot just how absurd he is. If Coan and his suddenly stronger group of receivers can provide the play action juice, this offense should put up some big numbers.
It's also just a lot more fun to be optimistic before the season has kicked off. Like I'm ever gonna sit here and tell you how miserable the year is gonna be.
Let's go beat South Florida.
---
WHO/WHERE/WHEN
WEATHER: CLOUDY, MAYBE A LIL' RAIN, 80
---
RANDOM MUSIC WE'RE DIGGING HARD THIS WEEK
At this point they're deeply embedded in the pop game, but DAMN if they don't know how to write an absolute summer banger. You can safely expect every album they release to have at least one undeniably catchy jam on it. Gotta respect that.
---
BIG TEN FEAR RANKINGS
1. Ohio State, 0-0 (0-0). Urban's gone (thank god, now we just have to avoid Fox pregame shows). That is very nice. Unfortunately they continue to have a roster full of 5 star monsters because for reasons unknown elite athletes flock to Ohio.
2. Michigan, 0-0 (0-0). I'm yet to come to terms with us playing Michigan in like 3 weeks. AND we have a bye before that. What kind of schedule is this? How lit is Madison gonna be? These questions demand answers.
3. Wisconsin, 0-0 (0-0). Another year has passed, another conferenced has allowed beer sales at college football games, and Wisconsin and the Big Ten remain in the Sober Stone Age. This is stupid. Imagine if I pitched an athletic director on an easy plan to increase attendance, arrival time, fan enthusiasm, and be a guaranteed revenue machine. And imagine if the athletic director was like 'nahhh, we're good.'
That's basically what any college football administrator is saying when they refuse to open the booze floodgates at a college football stadium. Enough is enough. Get with the times.
4. Iowa, 0-0, (0-0).
OVERRATED: Alpine Valley. There, I said it. Place is impossible to get to, concessions are garbage and understaffed, lawn stretches out for 12 miles from the stage, and good luck getting out without leaving early. In fact, that's exactly what I did. Left after Hootie's third song. No regrets. I give Alpine a 1.7/10.
PS - Everyone knows his name is not actually Hootie but we really have to live our lives pretending that it is. He's Hootie, and those are his Blowfish.

5. Michigan State, 0-0, (0-0).
Honesty check: I know not a thing about MSU football in 2019. Ranking them 5th means nothing other than 'oh yeah sure this seems about right'.
6. Penn State, 0-0 (0-0). OVERRATED: Honey Butter Fried Chicken. People rave about it in Chicago but I am here to report it is bad food. My 'chicken strips' were random leftover chunks of dark meat. The herbed ranch was more like garbage green ranch. Mac and cheese? More like crap and cheese. I wish I had more hands so I could give that place 4 thumbs down. 2/10, no thanks.
7. Purdue, 0-1 (0-1). No clue why but I'm feeling a Purdue return to relevance. As in I'm kinda hoping for it. Let's get some fresh blood battling it out in the B1G. I don't really have anything against Purdue and nothing will every override the Orton fumble.
8. Northwestern, 1-0, (1-0). OVERRATED: Pat Fitzgerald. Curious what his long term ambition is, because there's no way it's creating a powerhouse in Evanston. I'm not buying Northwestern being an actual, consistent contender for anything. They backdoored into the B1G West title last year and that's gotta be their ceiling. Pass. 3/10.
9. Minnesota, 0-0, (0-0). Been a while since we been coming for that axe. Also means our Thanksgiving tussle with the Gophers is meaningful this year, and that's about all you can ask for.
PS - I can't wait to absolutely BUNDLE these clowns.
10. Nebraska, 0-0, (0-0). Allow me to proudly proclaim that Nebraska will struggle to be .500 this season. That's right, contrarian Brandon has arrived. Too much hype. Too many people calling them their 'sleeper' B1G contender. I'll believe Nebraska football is BACK when I see with my own two eyez.
11. Maryland, 0-0 (0-0). OVERRATED: Ferris Bueller's Day Off. If I had a nickel for every time someone did the 'Bueller? Anyone?' shtick, I'd take my billions of dollars, buy the rights to this annoying movie and ship the film into outer space. It's not good and you should invest your time doing something useful, like watching The Rock.
12. Indiana, 0-0 (0-0). My dog lost 3 pounds, which didn't seem very impressive until I realized she weighs like a quarter of my weigh, and if I lost 12 pounds I'd be dancing in the streets in celebration of my conquest of all things carbs. GOOD GIRL
13. Illinois, 0-0 (0-0). Sounds like Illinois is proudly touting how many former NFL coaches they have on their staff, which is a very glass half full way of pointing out how many failed NFL coaches have had to resort to coaching Illinois football to keep cashing a paycheck.
14. Rutgers, 0-0 (0-0). Pros: they have cool throwback uniforms.
Cons: litrally everything else.
---
THIS WEEK'S GAME IN HAIKU
Patio weather
And a season opener
A perfect combo
---
YOUTUBE
Let's ASSUME the sound is real, because I have not stopped giggling at this video since I saw it last week. The awkward way he's holding it, the perfectly dumb misstep, the moment of thought that the dead squirrel is actually a ZOMBIE squirrel, re-animated and ready to ATTACK. It's all so perfect.
PS - I would absolutely freak out if a waterlogged, dead squirrel touched me. You can't wash that off.
You can't wear a backwards hat or a white t-shirt into a club, but I guess there's nothing on that not-so-subtle racist rules list about bringing your own woodwind instrument in. Nailed the solo, and big ups to the DJ for letting him have his moment.
You know what? One man's opinion, but I don't think this guy enjoyed paragliding!
I will, however, give him credit for the brave self-evaluation while having a string of heart attacks.
---
#FOODPORN
What happens when you make way too much pork tenderloin on Monday? You get incredible pork fried rice on Wednesday! I'm also happy to share that I have officially perfected the fried egg: you need to use vegetable oil, get it nice and hot, and then while the egg is cooking you tilt the pan and spoon some of the oil on the top to cook the egg through before the bottom burns. End result is and incredibly crispy fried egg, whites fully cooked, yolk ready to RUN.
---
#SKYPORN
Vista is so close to being done and oh my does it looks GREAT. Beautiful building. A+ addition to the already incredible Chicago skyline, and it's going to do some really cool things with sunlight once all sides are glassed up.
---
PREDICTION CITY
Friday night, let's get weird. THE PICK:
WISCONSIN 38, South Florida 10