Oh I am feeling RANTY this week:
THE GODDAMN UNITED STATES NATIONAL TEAM DID NOT QUALIFY FOR THE WORLD CUP. Your reaction to this is most likely one of two feelings: complete indescribable anger or 'soccer is dumb who cares'. I really don't know how you find a middle ground there. And there is NO way to spin this. It is indubitably unspinnable. To be honest, I'm still struggling to just wrap my head about all of the implications:
1) I've spent the previous 3 years thinking I could take my sabbatical at work during the World Cup and go to Russia. That idea is now officially dead and my dream of going to a World Cup in person is now on hold until 2026, which sounds like the year the Jetsons took place in. Will probably be robot soccer by then. Ugh.
2) Remember how much fun it was watching the US games at bars where even soccer haters were on the bandwagon? There was so much HYPE. Faced with nothing but baseball, the World Cup gave us the intense sports fixation we craved. Now we get to hope Iceland does something cool.
3) Here's what I don't get: why is the US women's program the best in the world while the men's program is shit? Is it just less competition for the athletes to play other sports? Are more of our better female athletes sticking with soccer instead of spinning off to hoops/hockey/baseball/everything else? Does the women's program emphasize skill and tactics more than just relying on athleticism? WHAT IS THEIR SECRET, WHICH IS TECHNICALLY OUR SECRET? Give the women the @ussoccer handle, hire a female president of the US Soccer Federation, and build a men's program that SNIFFS the level of skill and success the women have.
4) Poor Christian Pulisic. We finally have a building block WORTH building around, and the best thing we could do for him was get him World Cup reps before he's old enough to drink. What do we do? Watch Jozy and Bradley and the rest of the vets come out flat and STAY flat against one of the worst teams in the entire world. Hopefully CP10's experience with Dortmund will keep him moving forward to superstardom, and hopefully he doesn't quit soccer and start playing football.
5) I'm done. I'm just so done. That was the most infuriating sporting event I've ever watched. I'm not joking when I say I've never been angrier after one of my teams lost a big game. After the UW/Duke title game I was depressed. After the '03 Cubs I was young and dumb and there's always next year. But this is in a class of its own, and that's a class I hope never grows.
Fire everyone. Burn it to the ground. Empower all the women. Embrace Pulisic. Go Iceland.
UGH.
UPDATE: A commenter by the name of Aubrey has shed some light on why the women's program is a juggernut:
I love a good ranting.
In regards to why the US women are so much more successful, there are a couple reasons. While men's soccer was becoming immensely popular through the late 19th Century in Europe and its colonial empire, women were still told their place was in the home. In fact, with a few exceptions for war (think a League of their Own), Euros did not want women playing soccer as it was viewed to be unfeminine. Organized women's leagues were banned in the UK and Germany until ~1970. The German soccer organization (DFB) stated: "this combative sport is fundamentally foreign to the nature of women" and that "body and soul would inevitably suffer damage". Further, the "display of the body violates etiquette and decency". So while the world has developed their men's programs for over 100 years, women's programs have lagged behind, creating less of a gap for us to overcome.
The gap in men's soccer was largely caused in part because we were developing our own successful sports (football, baseball, even basketball and hockey). We also weren't part of the Europe colonial empire so it wasn't really impressed on us.
Football and baseball aren't really sports that women are encouraged to participate in, so while many of our best men pursued those sports, women found their own favorite sports.
Title IX is the real huge advantage for US women's soccer. When schools needed to add women's sports, soccer was a natural fit due to its affordability, the same reason it enjoys such success even in the third world. Title IX essentially created a developmental program for women that was unheard of in other countries. This gave us a significant advantage in the sport, which led to our first World Cup championship. As they say, success breeds success, and soccer exploded in popularity amongst American girls. In addition to school programs, travel teams and organizations blossomed and development became even more regimented. Europe has only begun to create developmental leagues for its women (they are getting better you might notice) somewhat recently.
So... TL;DR: our women started on even footing, don't get to play football/baseball instead; Title IX; a history of winning
---
WHO/WHERE/WHEN
WEATHER: LOOKS LIKE SOME RAIN, GON' BE A WET ONE
---
RANDOM MUSIC WE'RE DIGGING HARD THIS WEEK
Not too shabby.
---
BIG TEN FEAR RANKINGS
1. Penn State, 6-0 (3-0). Player A: 102 rushes, 649 yards, 6.4 YPC, 8 TD
Player B: 97 rushes, 767 yards, 7.9 YPC, 9 TD
2. Wisconsin, 5-0 (2-0). Player A is Saquon Barkley. Player B is Jonathan Taylor. An undefeated run and flirting with 2,000 yards and 20 touchdowns puts Taylor firmly in the top 5 for the Heisman. Absolutely insane.
3. Ohio State, 5-1 (3-0). For all its faults, Twitter still has its moments:
PS - @MerriamWebster spits some good fire on Twitter. Highly recommended follow.
4. Michigan State, 4-1, (2-0). The enemy of my enemy is my friend. High five!
5. Michigan, 4-1 (1-1).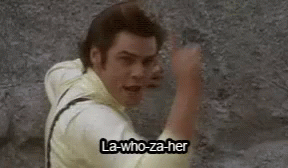 6. Iowa, 4-2, (1-2).
What did we learn in Gary Andersen's bizarre departure from Oregon State? He texts like a complete j
ackass:
"Love my kids just want to see them take a step!! Don't expect greatness but I do want to see progress!.. I will fight! It's an interesting battle. However I asked for it and love my kids! We still need to step up around here and stop being small time!! ... We played hard as hell ... blown coverages and poor run fits... our youth hurt us bad... it's on us. This team should get to a bowl game. If not I will be highly disappointed!! Getting old... patience isn't what it used to be!!"
"If the defense can not get better ... I will be making some decisions I really do not like or want to make. We will grind!!"
"Hard place right now... one thing I guarantee you is this: This staff needs to figure it out. I ain't going to die doing this (expletive)! It's on me and I get that and right now... Beaver Nation deserves much better! End of story!!"
"I have them by the (expletive) for every penny, no buyout for the next four not counting this year... but that's not my style!! If it does not improve I will do some crazy (expletive) with my salary so I can pay the right coaches the right money!!"
Good god man, get it together.
I'm gonna just throw it out there: I wonder if he's healthy. I have such a hard time finding a rational reason for him to leave $12 million on the table and walk away from the job like this. I don't care how 'honorable' he is, he ain't that dumb. And he ain't that honorable.
I hope I'm wrong. I don't know a damn thing. But I really struggle to think of anything other than health issues to explain this.
PS - Mr. Honorable really did his coaching staff a favor blasting them like this to the media. And really did his kids a favor by quitting and leaving them in the hands of... the assistants he thought were so shitty in the first place. None of this makes a lick of sense.
PPS - With GA being the dope he looked like when he left, and Bielema's SEC record ballooning to 10-24, I think we can safely conclude that Andy Dufresne was correct: salvation lies within (the borders of Wisconsin).
PPPS - never a good sign when the third hit after googling your name is about the buyout for your contract. Woof. #karma
7. Nebraska, 3-3, (2-1). Are Bears fans ready to move on from worshipping Ditka? Could you be more ignorant than proclaiming that you have 'not seen oppression in the last 100 years'? It's time to stop treating him like an icon, and start treating him like the old racist uncle your parents told you to stay away from at the family BBQ.
PS - do people still do family reunions? I'm pretty sure at this point they're just used for analogies by assigning stereotypes to the various members of an extended family. Hasn't Facebook kinda rendered them useless? Facebook elected Trump but eliminated the need for awkward family reunions. Can't have the good without the bad.
8. Purdue, 3-2 (1-1). I want that Taco Bell Crispy Chicken Quesadilla and I want 12 of them. I frequently get people asking me what my TB order is these days (youknowhowiknowyourefat.com), so here you go:
(1) Cheesy Gordita Crunch with Cool Ranch shell
(1) Whatever Cool New Special Is Available (Crispy Chicken Quesadilla is the current offering)
(1) Nacho Cheese Doritos Locos Taco Supreme
(1) Chipotle Chicken Loaded Griller
(1) Potato Loaded Griller
(1) WILDCARD
The big takeaways here are that the Loaded Grillers are the best value on the menu, you build a foundation with the CGC, you experiment with the latest big promotion, and you fill the gaps based on how hungry you are. At the end of the day, the only bad order at TB is one that has fewer than 4 items.*
*Unless you're grabbing a couple quick CGCs at the Oasis TB. That's an acceptable scenario to keep it TB simple
PS - am I the only one that follows Taco Bell on Snapchat and Instagram?
PPS - between the Wrigley TB closing and the planned conversion of TB into fancy TBs... it's a strange time to be a CGC loyalist. There's a lot to process here.
9. Maryland, 3-2 (1-1). Twitter still has its moments, part deux:
God I hope this is real.
10. Northwestern, 2-3, (0-2). What's the relationship protocol for dropping off/picking up drycleaning? I maintain it should be like cooking: if one person cooks dinner, the other cleans up. So if one person drops off the drycleaning, the other should pick it up, right? The cleaners aren't the FBI asking for 6 forms of identification on a pickup.
In related news I'll be picking up the drycleaning this week.
11. Minnesota, 3-2, (0-2). You know what's weird? At this point I'm kind of hoping Game of Thrones doesn't come back until like 2020. This is IT. End of the (kings)road. Once that sixth episode ends, life as we know it is OVER. We are taking the Black.
My message to the showrunners: take your time. Get it right. Film 28 different endings and leak the 27 fake ones after the show is over so I can do some 'create your own adventure' scenarios. SER POUNCE WILL RIDE AGAIN. KING HOT PIE, FIRST OF HIS NAME, BAKER OF BREAD, EATER OF PIES. DROGON EATS DANY AND POOPS HER OUT AS A DRAGON EGG AND SHE HATCHES AND BECOMES DANY THE ACTUAL DRAGONQUEEN, WHO THEN HAS SEX WITH DROGON AND CREATES ADDITIONAL DRAGONHUMANBABIES... DRAGON INCEST!
I should write a tv show!
PS - really need the show to end with anything other than a Jon/Dany sacrifice after she gives birth and saves humanity, which leads to one of the Stark children having to protect another Targaryen 'bastard'. Goddamnit that's what's gonna happen isn't it.
12. Indiana, 3-2 (0-2). Can I make a latte with chocolate milk? Is that just a mocha? I want a bucket of espresso and some chocolate milk to cut it down. Adulting is weird.
13. Illinois, 2-3 (0-2). Do we want to talk about how long I spent trying to figure out where everyone was getting these TEAVANA drinks from? Where is this trendy new coffee joint? I am SO relieved I never stopped someone to ask where TEAVANA is.
14. Rutgers, 1-4 (0-2). YOU'RE TERRIBLE AT ALL THE THINGS.
---
THIS WEEK'S GAME IN HAIKU
The march continues
Another big, juicy spread
Let's get that paper
---
YOUTUBE
The amount of dedication required to make something like this is so impressive. Also, LINE RIDER! There's a nice throwback.
Terry Crews is the man, spicy wings are the best, and this looks like a wonderful mixture of death and euphoria. I can trip on hot sauce? FLY ME TO THE MOON
---
#FOODPORN
ALL THE MEATS at the Pecan Lodge in Dallas. We are talking two different types of sausage with some bacon-topped mac and cheese, brisket, pulled pork, burnt ends, pork ribs, and the dinosaur 1.3 pound beef rib. That thing was literally a steak on a rib. Everything was incredible and even though my body violently gave up on me the next morning, it was all worth it. If you're in Dallas, go there. Get it all. Thank me later.
---
#SKYPORN
Saturday I looked up through the skylight at FatPour and noticed some crazy color in the sky. I immediately thought RAINBOW and darted outside and sure enough, BANG, double rainbow all the way across the sky. It kinda sucked not having a good view with the skyline in the background, but no complaints here. Full-on double rainbows are a blessing from the gods and we should all cherish them when they arrive.
PS - I miss double rainbow guy. Back when YouTube wasn't filled with Twitch streamers and monetized vloggers. Antoine Dodson, Double Rainbow... the good old days.
---
PREDICTION CITY
Taylor feeds. He hungry. THE PICK:
WISCONSIN 51, Purdue 9